---
First off, what is a GOAL?
Goal setting is a powerful process for thinking about your ideal future, and for motivating yourself to turn your vision of this future into reality! Goals are important for anyone: athletes, musicians, lawyers... they help you to understand where you would like to go in your future and helps to motivate you towards that destination.
What goals will you set to help you Reveal Your Champion?
How Do I Set My Goals?
One way we can create goals is using the "SMART" method. Using a method like the "SMART" method you can achieve a higher rate of success and have a better chance of meeting your goals.
---
S-Specific
Specific means that your goal is detailed and exact. It can answer the questions who, what, where, when, why and which.
M-Measurable
Measurable means you can track your progress and know exactly when your goal is met. It usually involves numbers.
A-Achievable
Achievable means that your goal is a reasonable one that you will be able to reach, but it won't be too easy for you.
R-Relevant
Relevant means that your goal is worthwhile. It is something that is important to you right now.
T-Time Bound
Time bound means that your goal is something that can be accomplished in a set time frame, such as two weeks, three months or one year.
How to Use SMART to Create Goals
---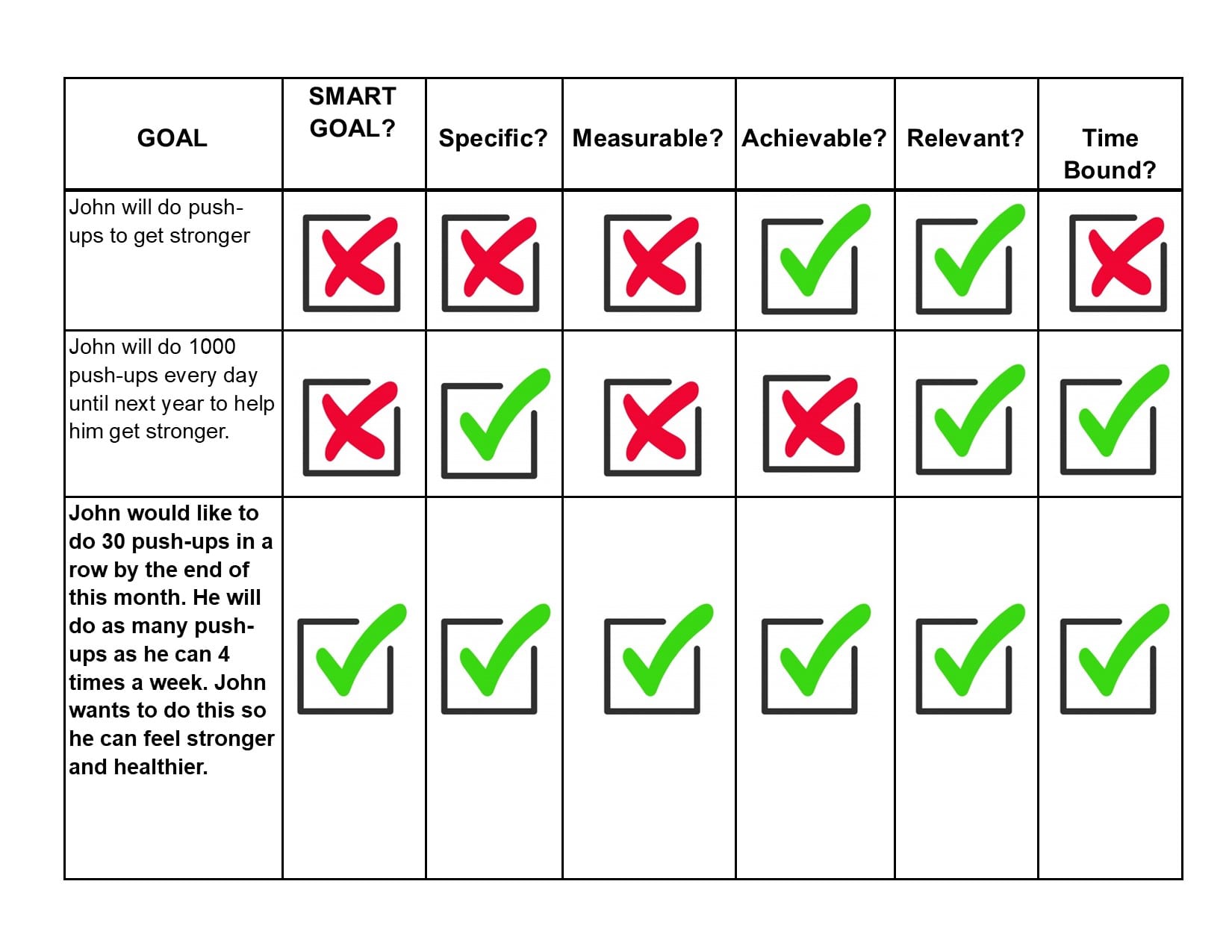 ---
These are goals that are directly related to each month's focus. Whether it is for the month of February or for any other month of the year, you will login to Reveal Your Champion to set your goals that you want to reach.
Review your activity options below and choose which activity you would like to set a goal for and decide what your goal will be. Don't forget to find our your baseline (what you can currently do). Once you have selected your goals, it is time to train! Keep those goals in your mind and we will work together on them. At the end of each month, you will record your goal entry and receive a MyPAHL bonus code.

When and Where to make your goals: After our first week of each month, take the time on Sunday to select your Monthly goals. These goals are focused around some of the poses, exercises, and positions that you already did this week.
---
---
Step 1) Select which of the excersizes below you would like to work on this month
Step 2) Figure out what your baseline is: How many repetitions (reps)you can do or how long you can currently hold the pose
Step 3) Decide what your goal should be: How long would you like to be able to hold the pose/how many reps do you want to be able to do by the end of the month *Remember to use the SMART method
Step 4) Fill out the Goal Setting form below so you can track how well you do
Step 5) Follow along with the RYC workouts to help you achieve your goal
Step 6) Collect your MyPahl bonus points when you report back in at the end of the month
---